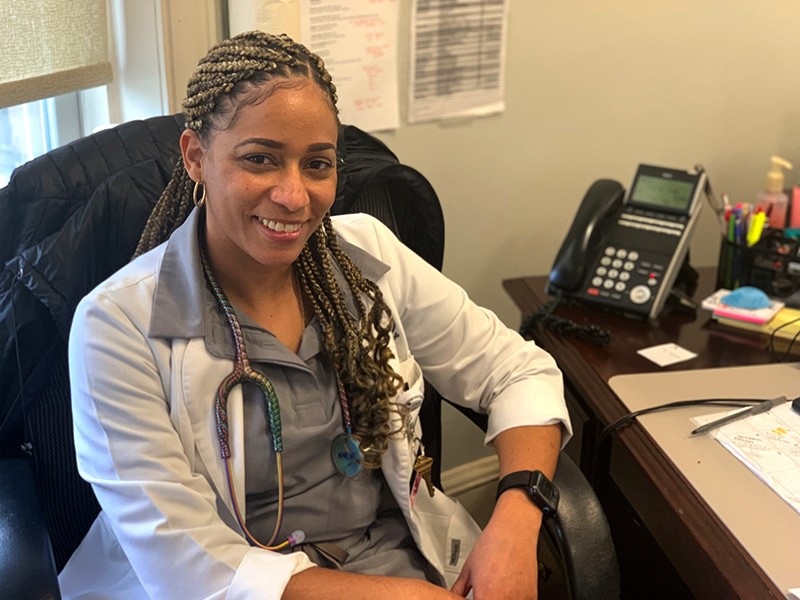 Faith grew up in Jamaica and moved to the U.S. in 2014. While she loved her life in Jamaica, she moved to the U.S to find a better life for herself and her family.
Faith has an incredible work ethic. You will learn a little about her journey throughout her work at Job Haines Home. She describes herself as "very hard working and dedicated". When she puts her mind to a goal, she always follows through.
On her first day at Essex County College in Newark, working towards her Associate Degree in General Sciences, she met a woman in her statistics class named Ms. Jean Allen, who happened to be a nursing supervisor at Job Haines Home. The two spoke and she mentioned that she didn't have any experience in the field of nursing. Regardless of this fact, Ms. Allen encouraged Faith to apply for this position at Job Haines Home.
Faith started at Job Haines Home in 2015 as a certified nurse's assistant. Loving her new career so much, she decided to pursue her studies in the nursing field to become a Registered Nurse (RN). She later received her BSN at New Jersey City University and received High Honors after the RN program in 2018.
After working some time as a certified nurse's assistant, and becoming an RN, she was promoted to the floor nurse. As a floor nurse she was responsible for maintaining the well-being of her residents. Faith was later promoted to a nursing supervisor in 2021.
When asked why she loves her job, the answer was obvious. "I love the residents! I was always drawn to the elderly, and I really enjoy being able to help individuals and make people smile. The Management Team is very supportive and encourages you to strive to be your best."