Celebrating 125 Years at Job Haines Home
Walk with us through time and uncover what makes Job Haines Home so unique to our residents and community.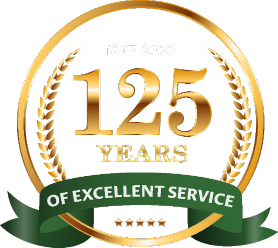 Job Haines 125th Celebration
How it Started and Grew
Written by Davis Lusk, President
Memorialized in February, 1927
Job Haines was an elder in the Sixth Presbyterian Church in Newark. He was a very sincere and conscientious Christian, highly respected in the church and the community. When he died his estate went to his only son and heir, Frank Haines.
One day (I cannot give the date) Frank came to me stating that he had a piece of property on Clinton and Johnson Avenue, Newark, that had come to his father in lieu of a bad debt and he wished to donate said property to start a Presbyterian Hospital. Well, I had dreamed of starting a hospital and considered this my opportunity, so started out to interview some of my brethren.
Read More
The Job Haines Home Timeline
1897
Basis of the Home is established; eligibility requirements are set.
1898
Board purchase property at Watsessing and Bloomfield Avenues for $10,000.
1901
Johnson Avenue property original donation of Frank Haines, sells for $6,000 to raising money for the new building.
1902
Frank Haines dies and leaves some $23,000 to the Home. Excavation on the new structure begins.
1903
The new building is completed and a permanent ratio is set for number of residents, staff and monies allocated for care.

The new home is formally opened in June.
1907
An elevator is installed in a pre-designed shaft.
1924
First repairs and alterations are made to the facility.
1930
West Wing is constructed.
1943
Like other Americans, residents of the Job Haines Home also made sacrifices for war effort and regularly participated in blackouts. In fact, in February, Mrs. Updike, of the Board Of Managers, had to visit the Ration Board "about getting shoes for the family and staff and to get coffee..."

Renovations were made to the infirmary.

In May, the home hosted a meeting of the New Jersey Association of Homes for the Aged.
1944
A good time was enjoyed by all at the annual Lilac Tea.

To celebrate the Allied invasion of Europe, on D Day, the family held a short, patriotic ceremony at dinner.
1946
According to the Managers' minutes "[t]he tomato garden yielded a good crop and our flowers and grounds were a joy to all."
1947
On March 17, the Job Haines Home celebrated its 50th Anniversary by holding a tea.
1948
Admission fee is changed from $1,000 to $1,500.

In June, the Board of Trustee's Committee on Constitution and By-Laws made following recommendation:

Change Article 5, Section 2, Paragraph C to read as follows: "C - All persons seeking admission to the Home must be citizens of the United States, Protestants, and residents of Essex County, for five (5) adult years, must be at least sixty-two years of age when applying, and under sixty-five years old when admitted..."
1949
By-laws are changed to increase age requirement of residents to 65.
1950
Given the 55 years of dedicated service which Jacob Wolfe, MD. provided, a resolution was issued Doctor Emeritus of the Home.
1952
Keeping with the Home's spirit of sharing and caring, the wardrobe committee inspected its supply of clothing and linens and whatever was not usable by the Home, but still in good condition, was donated to Goodwill.
1953
Mrs. Frederick Cook, a member of the Board of Managers since 1908 and Board President from 1934-39, Mrs. Jacob Wolfe, a Board member since 1917, were made Honorary Members because their "many services to the Home and Family cannot be measured or...appreciation expressed."

According to the Annual Report, the Home held 11 devotional services, a monthly birthday party for residents, a Lilac Tea and a Christmas party the year.
1954
Residents of the Home were treated to many parties, plays and concerts.

Drs. Pilch and Crater began holding office hours at the Home instead of having residents go across the street.
1955
The annual operating budget was $64,349.61

As reported in the Managers' minutes book "[t]he institution of Dr. Pilch holding clinics at the Infirmary has proved most satisfactory, both for him and for the family."
1956
The Board of Managers of the Canfield Memorial Home held its organizational meeting in February.

In May, the Canfield Memorial Home opened its doors to its first residents.
1957
Construction of the new infirmary was begun in April. This momentous event was recognized in the Annual Report, which stated: "The year 1957 will be important in the history of the Job Haines Home for it was this year that the new infirmary became a reality."
1958
On May 11, the new infirmary is was opened for friends, family, and board members. The long term care facility was added to provide round-the-clock nursing care to those residents who required nursing home placement.

The infirmary began actually operation on May 13th.
1960
After 53 years of service, the elevator which was originally installed in the main house has been replaced.
1967
As reported in the Home's archives "[t]he year 1967 started off with a bang with the demolition of the Cottage" after receiving approval from the Board in1966. So, "...all ladies were moved to the Main Building."
1977
The Board of Trustees of the Bloomfield Home for Aged Men and Women and of the Job Haines Home executed an Agreement of Merger.
1978
This was the last year in which an annual report was published.
1993
Plans are developed for a major expansion and remodeling of the facility.
1998
A Skilled Nursing Residence with 30 beds was opened.
2000
A state-of-the-art assisted living residence is opened.
2005
A Sub-acute Care program was offered within the Skilled Residence.
2009
Expanded into a 10-bed Sub-acute unit.
2017
Major renovation of the main house, added state-of-the-art rehabilitation gym.
Thank you to our Sponsors for Joining us in Celebration of our 125th Year of Excellent Service

Gold Sponsor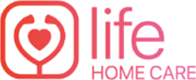 Silver Sponsors